MIDI Lab is a Swiss army knife in MIDI industry allowing any imaginable MIDI processing environment to be defined. It can be used both in the studio and live.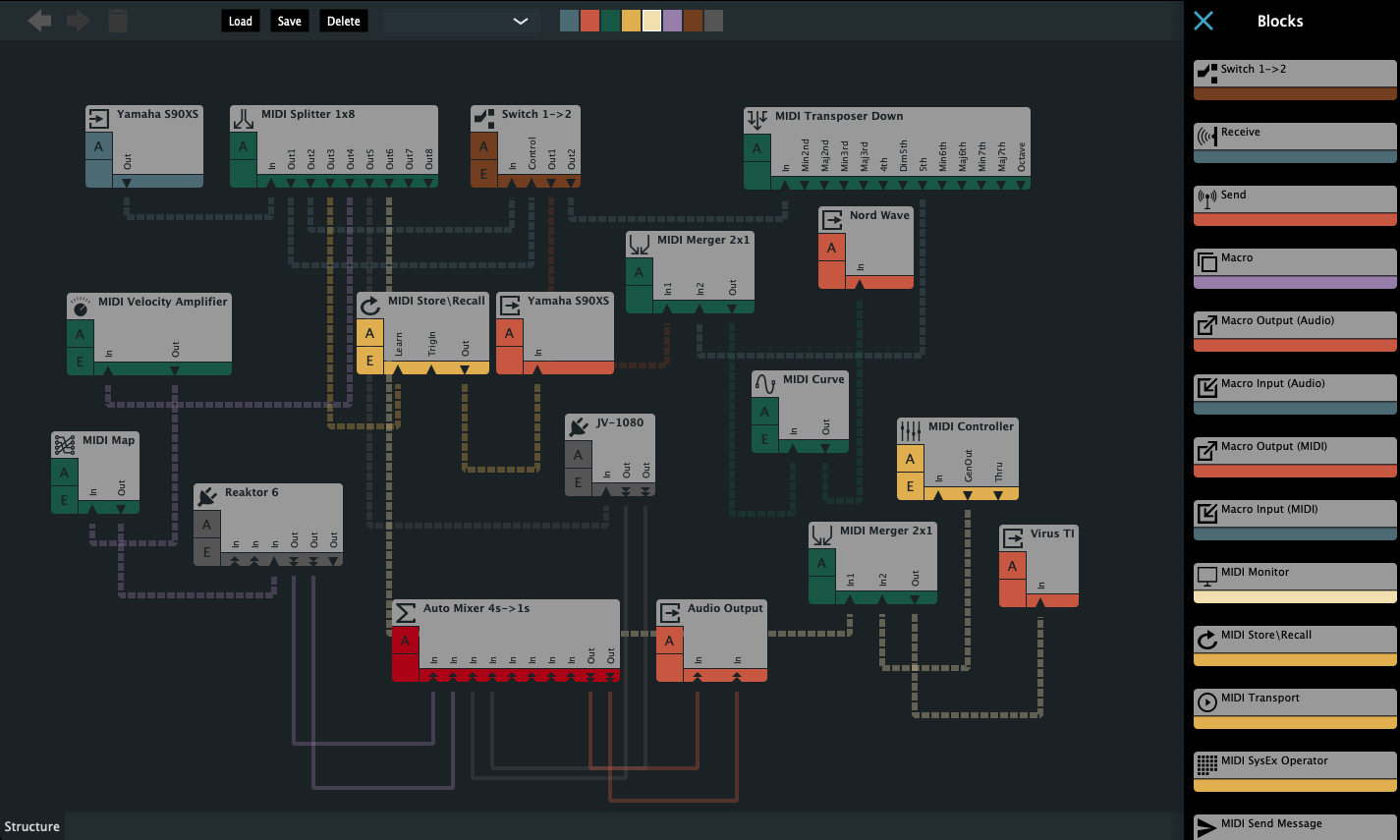 Main features:
Route signal from any number of MIDI inputs and outputs
Modular drag-and-drop GUI
It acts as a plugins host - 3rd party VST and AU plugins can be used for MIDI processing to extend its features when needed
Integrated Web API to automate routings over network
Multiple presets can be defined within single project file and restored when needed
Plethora of processing and controller blocks included within the software:

Merger and Splitter
Scrollable on-screen keyboard with resizable keys
Fully customizable Controller surface with faders, knobs and buttons - layouts can be saved and restored
Channel filter, splitter and remapper
MIDI file player and transport control
Expressions and Scripting (with loops, conditionals, functions etc.)
Monitoring block with reach filtering features
Velocity curve modifier
Clock generator
Random MIDI messages generator
Bank/Program and generic MIDI message send blocks
MIDI SysEx receive/send with built-in editor and save/load messages capability
MIDI Delay
MIDI Filter block to limit messages by type/data value
MIDI Map block allowing CC-to-CC transformation to be defined (also support presets save/restore)
Filtering Note On/Off messages by defined ranges for each MIDI channel individually
Transpose MIDI notes up or down
Velocity (MIDI Volume) Amplifier
MIDI Zones block to split MIDI Note On/Off messages into channels based on note number/range
Windows and MacOSX versions can be bought at
our online shop
while the iOS edition will be available soon at
Apple's AppStore
.